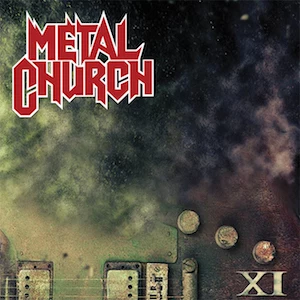 Rat Pak Records
It's on! After recently revealing they had reunited with former frontman Mike Howe and recorded a new album, more details about Metal Church's XI disc are coming to light.
The band has announced a March 25 street date via Rat Pak Records and a few more details have been revealed. The group just unveiled the artwork for the new disc, announced the track listing and revealed all of the pre-order information. In addition, they've issued a "making of" feature based on the creation of their recently premiered "No Tomorrow" video. You can watch that clip below, just after the track listing.
The XI album is currently available in a number of exclusive bundle options at this location. There is also a limited number of deluxe international versions of the album that come with a bonus disc of 8 extra songs. Other bundle options include such items as guitar picks, stickers, a special photo book, t-shirts and even the opportunity to speak with Mike Howe himself via phone. If you're looking for something a little more standard, the album is available to pre-order digitally via iTunes as well.
The group recorded XI with Kurdt Vanderhoof stepping behind the boards to join co-producer Chris "The Wizard" Collier. In addition to "No Tomorrow," fans can listen for such standouts as "Needle and Suture," "Soul Eating Machine," "Suffer Fools" and the epic tracks "Signal Path" and "Sky Falls In." So mark it on the calendar and get ready for Metal Church's XI on March 25.
Metal Church, XI Track Listing
1. "Reset"
2. "Killing Your Time"
3. "No Tomorrow"
4. "Signal Path"
5. "Sky Falls In"
6. "Needle & Suture"
7. "Shadow"
8. "Blow Your Mind"
9. "Soul Eating Machine"
10. "It Waits"
Metal Church Making Of the "No Tomorrow" Video
Subscribe to Loudwire on
Most Anticipated Hard Rock + Metal Albums of 2016
10 Unforgettable Onstage Reunions
Subscribe to Loudwire on

Source: Loudwire.com