Liz Ramanand, Loudwire
As those who've followed the career of Linkin Park's Mike Shinoda know, not only is he a talented musician, but he also has quite the artistic flare. The rocker recently put his talents to use for a new Star Wars themed exhibit and auction.
For the Art Awakens exhibit, Shinoda customized his very own stormtrooper with paintings of Yoda, Luke, Han, Darth Vader and Leia amidst other artistic touches. The piece is currently on exhibit at Gallery1988 in Hollywood, but all of the pieces in the exhibit are also being auctioned with the proceeds going toward UNICEF.
Shinoda said of the piece, "Like most people my age, the original trilogy was a cornerstone of my adolescent experience. There's an overwhelming sense of nostalgia whenever I see anything related to those films. This piece is a collection [of] my favorite memories of the film, the moments and characters that remind me of being a kid."
For those interested, the Stormtrooper has 501st-approved armor and stands 6 X 3 X 2 feet. There is a signature on the head under the helmet. The estimated value is said to be between $15,000-$20,000.
Get a closer look at Mike Shinoda's Stormtrooper and get verified to make a bid at this location. The bidding concludes on Nov. 23. You can see all the other items in the exhibit and make bids on those as well right here.
Mike Shinoda's Stormtrooper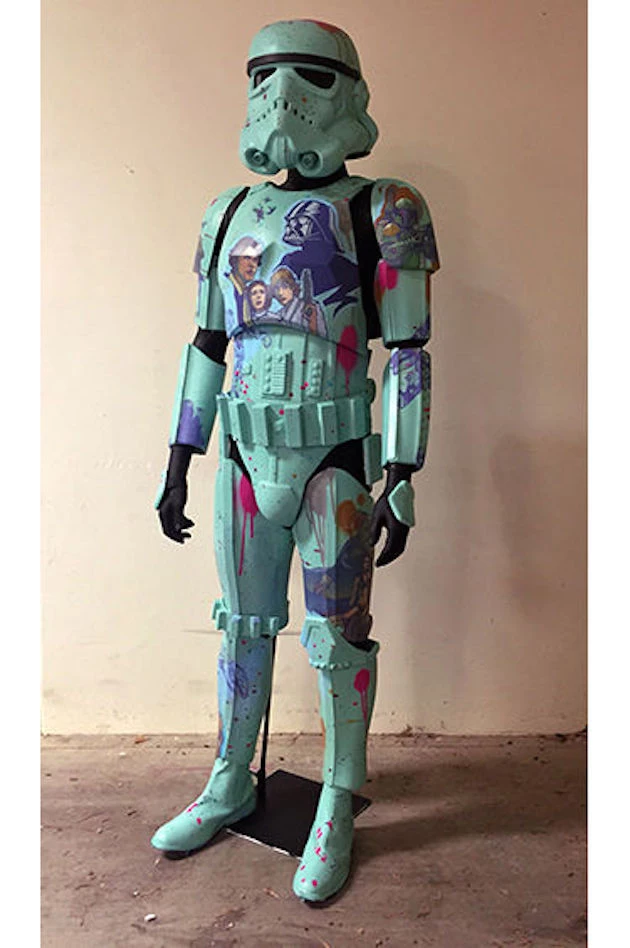 eBay
See the Yearbook Photos of Mike Shinoda + Other Rock Stars
Watch Linkin Park Discuss Their Admiration for Metallica, Paul McCartney + Rick Rubin

Source: Loudwire.com