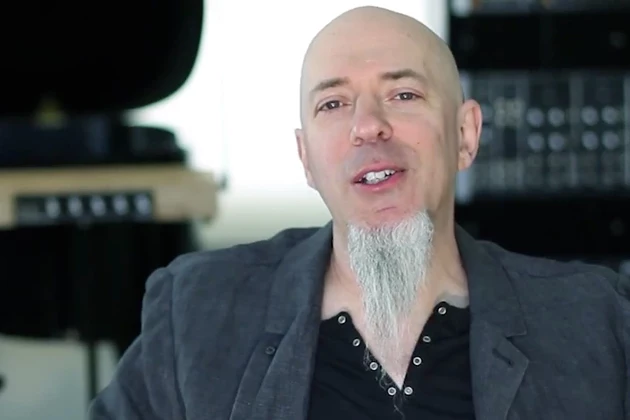 YouTube
Dream Theater's Jordan Rudess came very close to being another brick that made up Pink Floyd's legendary album The Wall. The world-class keyboard player had the chance, but not behind the black and white keys. Instead, he almost made an appearance on the 1979 record as a drummer guesting on the interlude, "Bring the Boys Back Home."
"Many years ago I had a friend by the slightly unusual name of Blue Ocean," began Rudess in an interview with Team Rock. "He was a very good drummer; I believe he had been one of the studio drummers for the Monkees, playing with them behind the scenes. Anyway, Blue got the job of assembling a marching band that would appear on the song "Bring the Boys Back Home.""
Rudess was visiting Blue Ocean at his home when Ocean told him to come to the studio and watch the track being recorded, adding the possibility that Rudess could have a chance to make a guest appearance as a drummer. Recalling this moment, Rudess reflected, "Well, I wasn't a drummer – by that point I'd have been around 18 years old and had long since decided that keyboards would be my life – but I'd played some very basic snare drum when I was in third grade."
"So I went with him to the session. I walked in, someone gave me a drum and some sticks. I'm playing along and having a really good time," continued the keyboardist, "but as I'm doing so I become aware that Bob Ezrin [producer] is looking at me across the room, eyebrow slightly askew and finally he says: 'I don't think so.'"
After not making the cut, Rudess went on to explain that he was in the control room and got to hear the playback of the song before anyone, but that they had no idea where the interlude would be placed in the maddening concept album.
Content but pensive, he concluded, "I was fine with Bob's decision. I was a very poor drummer. But there's a part of me that still wishes I'd been able to appear on The Wall. That would've been very cool indeed."
Rudess went on to build an impressive résumé regardless and is set to release his ninth album with Dream Theater since joining the progressive luminaries in 1999. The Astonishing will be released Jan. 29 on Roadrunner and is by far the band's most ambitious work to date. The concept record will span two acts, consisting of 34 tracks and an elaborate storyline. Dream Theater will also be performing the record in full on their upcoming tours. For a list of dates, visit our 2016 Guide to Rock + Metal Tours.
See Where Dream Theater's Image and Words Ranks Among the Top 50 Metal Albums of All Time
You Think You Know Dream Theater?
Subscribe to Loudwire on

Source: Loudwire.com