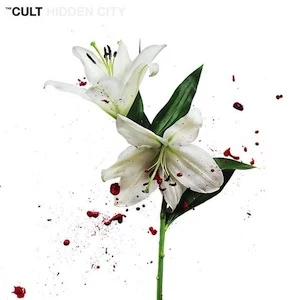 Cooking Vinyl
British rockers the Cult are set to release their tenth studio album, Hidden City, which will also complete the thematic trilogy that began on 2007's Born Into This. Out on Cooking Vinyl Records, the record will hit shelves on Feb. 5, 2016 and is the first to feature the band's new bassist, Grant Fitzpatrick.
Following up their 2012 album, Choice of Weapon, singer Ian Astbury and guitarist Billy Duffy teamed up for the writing as the band's only remaining original members. Explaining the concept behind the new record, Astbury said, "Hidden City is a metaphor for our spiritual lives, our intimate interior lives," adding "I find today's gurus are trying to peddle some cure, product or insight as if it's a new phenomenon. My place is to respond, not react, to observe, participate and share through words and music. There is no higher authority than the heart."
The song "Dark Energy," which can be heard below, opens the album with a jumpy, swinging rhythm that sees Astbury's signature croon enter shortly after. Keeping the bouncing rhythm, Duffy injects his ethereal, textured guitar playing hinting back at the band's post-punk and goth rock days while maintaining their modern day sound.
The Cult will be hitting the road for a short stint along the West Coast from Nov. 12-20 with Primal Scream.
Fans looking to pre-order the album have a host of bundles to choose from, all of which can be found here.
Listen to The Cult, 'Dark Energy'
Hidden City Track Listing:
01. Dark Energy
02. No Love Lost
03. Dance The Night
04. In Blood
05. Birds Of Paradise
06. Hinterland
07. G O A T
08. Deeply Ordered Chaos
09. Avalanche Of Light
10. Lilies
11. Heathens
12. Sound and Fury
100 Metal Facts You May Not Know
10 Rock + Metal Pre-Fame Moments

Source: Loudwire.com