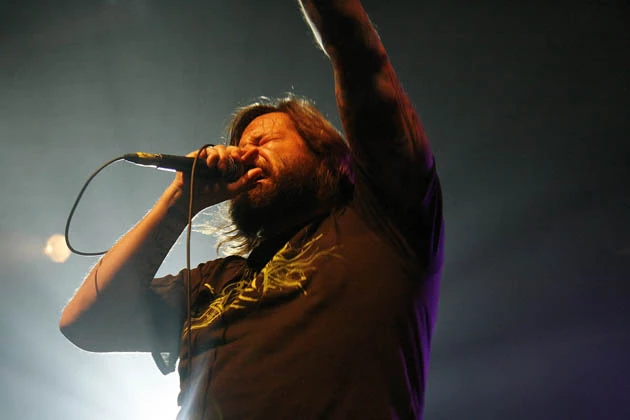 Liz Ramanand, Loudwire
If you want to see The Black Dahlia Murder on tour this year, there are even more opportunities to see the band live this fall. The back end of the band's year is going to be chock full of tour dates as they've just added a second leg to their fall tour, which is being staged to also mark the 10th anniversary of Indiemerch.
The Indiemerch 2015 trek will get under way Oct. 1 in Syracuse, N.Y. with support from Iron Reagan, Harms Way and Maruta. The previously announced leg will continue through Oct. 24 in Detroit. Vocalist Trevor Strnad said earlier this year upon the tour's announcement, which included a wealth of Canadian shows, "No venue shall be left standing in our wake! We'll be playing lots of new tastiness from Abysmal for you, as well as the classics, so bring your friends and get ready to bang your heads off. I am looking forward to drinking a Pils, eating some Poutine and raging out with my friends to the great white north. F–kin' eh!"
Now a second leg has been added beginning Nov. 27 in Joliet, Ill. Iron Reagan will return as one of the support acts, while Goatwhore, Entheos and Artificial Brain round out the bill. The second leg, which goes on sale Friday (Sept. 11), wraps on Dec. 20 in Cleveland. All dates for both legs can be seen below.
Strnad says, "It's a pleasure for us to be involved in IndieMerch's anniversary tour, they are the greatest merch company in the world and have been doing right by us for years. We've assembled quite a tour together showcasing some of the most killer bands out there from all walks of extremely heavy music. We are proud to be a part of it and we hope to see your smiling faces in the crowd each night!"
The shows come as the band is set to support the Sept. 18 release of their latest album, Abysmal. You can pre-order the disc and listen to some new music at this location. Ticketing info for the first leg can be found here, but check back as the second leg info will be unveiled shortly.
The Black Dahlia Murder / Iron Reagan / Harms Way / Maruta INDIEMERCH Tour: Part I
10/01 — Syracuse, NY @ The Lost Horizon
10/02 — Montreal, QC @ Foufounes Electriques
10/03 — Ottawa, ON @ Mavericks
10/04 — Toronto, ON @ Opera House
10/05 — London, ON @ London Music Hall
10/07 — Thunder Bay, ON @ Crocks
10/08 — Winnipeg, MB @ The Pyramid
10/09 — Saskatoon, SK @ Louis' Pub
10/10 — Edmonton, AB @ Union Hall
10/11 — Calgary, AB @ MacEwan Ballroom
10/13 — Vancouver, BC @ Rickshaw Theatre
10/14 — Portland, OR @ Hawthorne Theatre
10/15 — Seattle, WA @ El Corazon
10/16 — Boise, ID @ Knitting Factory
10/17 — Salt Lake City, UT @ The Complex
10/18 — Colorado Springs, CO @ The Black Sheep
10/20 — Lincoln, NE @ Bourbon Theatre
10/21 — Des Moines, IA @ Wooly's
10/22 — Bloomington, IL @ Castle Theatre
10/23 — Indianapolis, IN @ Emerson Theatre
10/24 — Detroit, MI @ The Loving Touch
The Black Dahlia Murder / Goatwhore / Iron Reagan / Entheos / Artificial Brain INDIEMERCH Tour: Part II
11/27 — Joliet, IL @ The Tree
11/28 — Minneapolis, MN @ Mill City Nights
11/29 — Lawrence, KS @ Granada Theater
11/30 — Denver, CO @ Marquis Theater
12/03 — San Francisco, CA @ DNA Lounge
12/04 — Los Angeles, CA @ Regent Theater
12/05 — Phoenix, AZ @ The Pressroom
12/07 — San Antonio, TX @ Alamo City Music Hall
12/08 — Dallas, TX @ Trees
12/09 — Houston, TX @ Warehouse Live
12/11 — Atlanta, GA @ Masquerade
12/12 — Tampa, FL @ The Orpheum
12/14 — Baltimore, MD @ Baltimore Soundstage
12/15 — Philadelphia, PA @ Union Transfer
12/16 — New York, NY @ Gramercy Theatre
12/17 — Boston, MA @ The Sinclair
12/18 — Buffalo, NY @ Waiting Room
12/19 — Pittsburgh, PA @ Mr. Smalls
12/20 — Cleveland, OH @ Agora Theatre

Source: Loudwire.com