JSR Direct
Municipal Waste have weighed in with their stance on Donald Trump's campaign for the presidency. Rather than collecting their thoughts and making a post on social media with a condemnation for the real estate mogul's take on immigration, they've decided to relay their message through a t-shirt. On the outside, this shirt's text may portray hypocrisy, but the crossover thrash act are simply referencing one of the coolest moves in the pit! The front, however, says a lot more with just a picture.
As seen above, Trump is holding a gun to the side of his head and has put an end to his campaign run as evident by the explosive exit wound. The shirt will surely raise some eyebrows as well as fists, with fans taking sides as they voice their opinions political and otherwise. The Republican hopeful has been rather incendiary in his campaign, even calling for a wall to be constructed at the nation's border to prevent illegal immigrants from entering the country.
Claiming they only build walls of death, Municipal Waste are referring to the orchestrated mosh pit move where the circle is cleared as thrashers form two "walls" of people. When the sign is given, each side runs at each other and the wall of death is complete! Check out our 10 Epic Walls of Death video at the bottom of the post for a visual aid.
Of course, punk and metal have never shied from politics and Tony Foresta and Land Phil both split their time between Municipal Waste and Iron Reagan. The latter creates a play off of Iron Maiden and perennial punk whipping post Ronald Reagan. Their latest album, The Tyranny of Will, was released in 2014 and contained equally graphic political context, which can be seen below. Former New York City mayor Rudy Giuliani is featured behind a podium surrounded by woodcut demons, one of which has severed the politician's head, raising it on a sword as blood flies in all directions.
Municipal Waste are not the only metal musicians to condemn Trump. Lamb of God singer Randy Blythe stated if Trump wins the presidency, "I'm leaving America 'til He's Gone." He didn't state he's leaving the country, but Slipknot's Corey Taylor also voiced his concerns that the former host of The Apprentice will becomes President of the United States and made parallels to when former KKK Grand Wizard David Duke made a run for the position.
Iron Reagan, The Tyranny of Will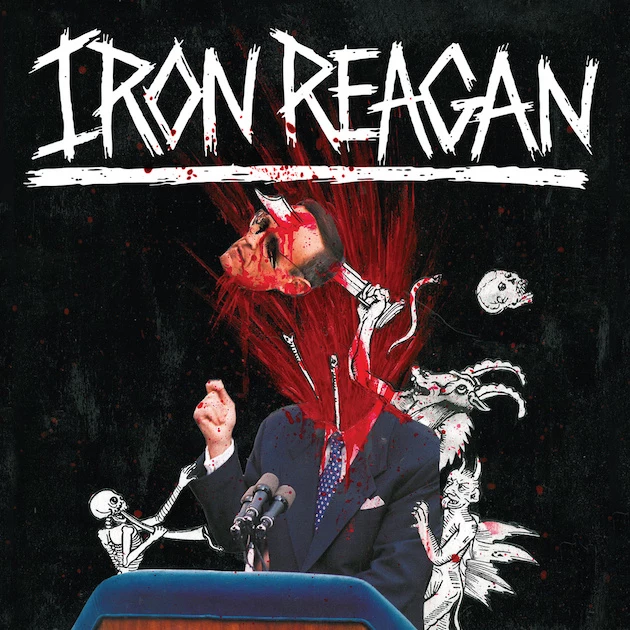 Relapse
50 Awful Metal Album Covers
10 Epic Walls of Death
Subscribe to Loudwire on

Source: Loudwire.com