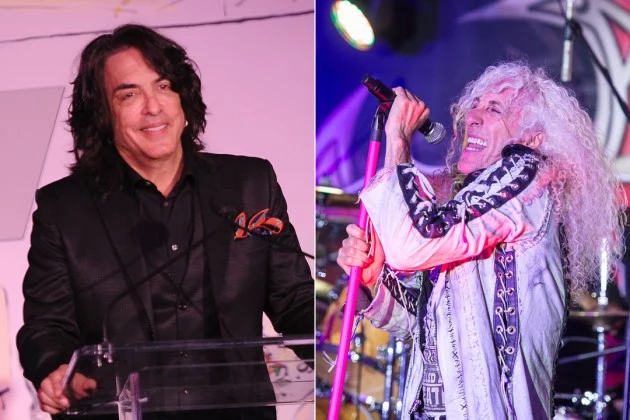 Angela Weiss / Dave Kotinsky, Getty Images
If there's one thing we've learned over the years, when you take a swipe at KISS, they can give as good as they get. Recently, while appearing on Eddie Trunk's show, Twisted Sister's Dee Snider gave his opinion on the current state of KISS and let's just say he's not a fan of how the band proceeded in the post-Ace Frehley and Peter Criss era. But Snider's comments did not go without a response as Paul Stanley offered some biting commentary on Snider during an appearance on Podcast One's Talk Is Jericho with Chris Jericho.
What began the back-and-forth was Snider calling the current KISS lineup "an insult." He told Trunk, "I don't see how people could accept this. Tommy Thayer? I'm sorry. It's insulting. Not only did he play in a tribute band of KISS, he's imitating Ace in his entire act!"
The Twisted Sister vocalist went on to say that the worst offense is when the current band not only has Frehley's look on the song "Shock Me" but also copies his stage moves. "Oh my God — that's disgraceful," said Stanley. "When KISS replaced Ace and Peter, and they brought in guys [Eric Carr and Vinnie Vincent] who had their own makeup and their own thing, that was acceptable. That was awesome. They were their own characters."
As for Stanley's response, he told Jericho, "Let me put it in the simplest terms. In this case, this guy is a wannabe, has always been a wannabe and desperately wants attention and to be taken seriously and that will never happen because he's obviously clueless that he and his whole band are a bunch of buffoons."
In the same Talk Is Jericho podcast, Stanley also relayed that he and his fellow members of KISS were "never friends," but adds, "I don't mean that in a derogatory sense. I mean that we were very different people with different interests and separate lives. We didn't socialize outside of being on tour and even then it was minimal. It was … we had some fun times but mainly being on tour was about playing and getting laid. And frankly I didn't want the other guys around for the second part of that. But we were a gang. We felt a kinship. We felt special. We were KISS."
Check out the full Talk Is Jericho podcast with Chris Jericho speaking with Paul Stanley in the player below.
KISS' Paul Stanley Speaks With Talk Is Jericho's Chris Jerico (via PodcastOne)
See the Yearbook Photos of Paul Stanley + Other Rockers
You Think You Know KISS?

Source: Loudwire.com