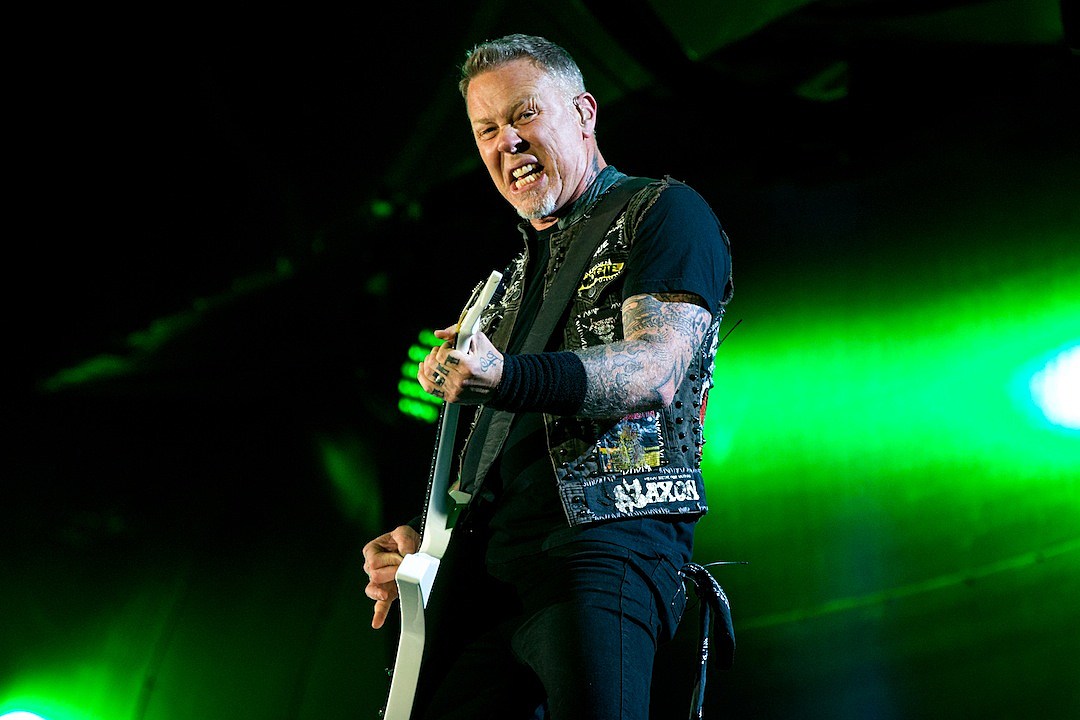 Christopher Polk, Getty Images
Metallica frontman James Hetfield has been open and brutally honest when speaking with the Metallica Fan Club magazine So What! on a variety of topics. After recently discussing some of the band's biggest failures and the loss of millions of dollars as a result, he has now offered his thoughts on side projects other members have pursued and the restraint he feels as a founder of the band from going after other creative endeavors.
When asked if side projects from bassist Robert Trujillo and guitarist Kirk Hammett have opened the door for him to do something outside of Metallica as well, Hetfield revealed his conflicting thoughts on the idea. Candidly speaking, he said, "That's a great question, because, for me, it's always been if anyone does something else, it waters down the potency of Metallica. That's always been the thought around it. But I guess if they do it, it's okay, but if I do it, it's not, because I'm the frontman, or Lars [Ulrich] is the drummer. We're the founders. We can't do that kind of stuff."
Continuing, he stated, "I think it's always been like that, and I still feel that a little bit. And I think Metallica, for Lars and myself— I'll speak mainly for me, but I know he feels the same way — Metallica is our side project too. It's our main project, it's our side project, it's our 24/7 project." Admitting he feels an itch to work on more than Metallica, he went on, "It doesn't mean that I don't want to try other things, like voiceover work, a book, photography, art, cars… you name it. I want it to add to me, not subtract from Metallica."
Putting the past behind him, Hetfield reveals his stance wasn't always this soft, reflecting, "Before, I might have come to the table with a negative attitude around side projects: 'You're doing that, which means you're not into this band as much as I am or Lars is.' I'm tired of that feeling and I'm tired of that resentment."
Detailing the band's internal operations among the members, the frontman said, "At the end of the day, I know Lars and I are the guides of this. We steer Metallica most of the time, and the other two guys are very happy that that is the way it is." Reiterating everyone's complacency, Hetfield offered, "And we're all equal. We're all contributing in our way. But I think Lars and I are very comfortable being the spearheads of it. And we are in a great spot right now, because everyone knows the band is prioritized above everything, but everyone also feels free to to explore other things."
Again, Hetfield has given a deeper look into the how the gears turn in the Metallica machine. Speaking about previous band endeavors, he commented at length on some of the band's recent commercial failures, including the Orion festivals, Lulu and the Through the Never movie.
All eyes are on Metallica as they head into 2016, readying a new album which they hope will be out by the year's end and early 2017 at the worst. Small details have emerged over the last couple months as the band works on their follow-up to 2008's Death Magnetic. Hammett stated the new material falls in line with what the band did on their last album, which had fans clamoring over Metallica's return to their thrashy roots with expansive songwriting.
See Where James Hetfield Ranks Among the Top 50 Hard Rock + Metal Frontmen of All Time
You Think You Know Metallica?
Subscribe to Loudwire on

Source: Loudwire.com