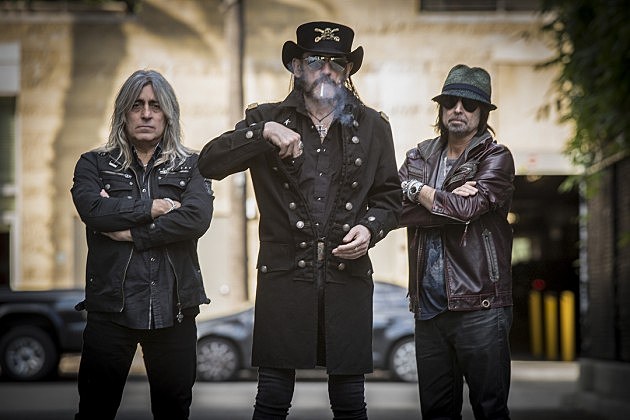 UDR
Loudwire had planned to roll out a new Motorhead song a day in the lead up to the release of the band's new Bad Magic album on Friday, but the band has decided to release all five tracks today. As such, we're going ahead and posting the three remaining tracks set to premiere this week along with the previously posted "Electricity" and "Sympathy for the Devil" that went up earlier today.
We'll start with Motorhead's "Victory or Die," a raise your fist to the air anthem from the iconic rockers. The song starts with a triumphant yell from Lemmy Kilmister before launching into full gear. It's a rocker that's sure to spur you into action if you ever needed a kick in the pants.
The second new song is called "Evil Eye." It starts off with a catchy drum beat from Mikkey Dee, then turns into a full throttle rocker with a more sinister vibe to it. Lemmy has a little more growl than usual when the chorus hits, which only adds to the darker vibe of the song.
And the third new track is called "Shoot Out All Your Lights," which opens with Dee getting his reps in behind the kit before Phil Campbell's driving guitar starts to push the track forward. There's a little call-and-response that should be fun for fans once the band starts incorporating the song into their live sets. "Shoot Out All Your Lights" is a high energy, propulsive rocker made for the stage.
Check out all three tracks, along with the previously released "Electricity" and "Sympathy for the Devil" below. And look for all five songs on the Bad Magic album, due this Friday (Aug. 28). You can currently pre-order the disc via Amazon and iTunes. Look for Motorhead hitting the road to support the effort at these stops.
Motorhead, "Victory or Die"
Motorhead, "Evil Eye"
Motorhead, "Shoot Out All Your Lights"
Motorhead, "Sympathy for the Devil"
Motorhead, "Electricity"

Source: Loudwire.com