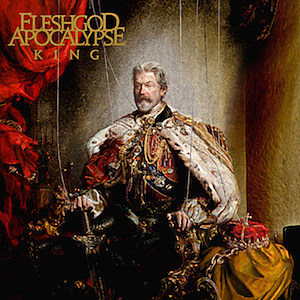 Nuclear Blast
Fleshgod Apocalypse are all set to release their fourth album, simply titled King. The Italian quintet has steadily been ramping up their classical influences with each release, incorporating more orchestral elements and operatic high singing to contrast their unrelenting brutality.
Out Feb. 5 on Nuclear Blast, King is comprised of 12 tracks that will tie together the band's concept. The album will be released on CD, Digipak which will include an orchestral bonus disc of every song except for the title track and a Digipak and t-shirt bundle. Pre-orders are available for each format here.
Considering the album's title and the fact that it is a concept album, the track "Syphilis" can allude to a couple of notable figures in history, including King Henry VIII and Ivan the Terrible.
Drummer Francisco Paoli commented, "The new album is called King. It's a concept album. It took longer this time but I believe it's a sign of more maturity and determination within the band. We can't release something mediocre just because it's enough to keep things rolling. I believe the music world requires people to work harder on their material and that is what Fleshgod Apocalypse is set to do in this 'new middle age' era."
Fleshgod Apocalypse will be bringing Carach Angren and Abigail Williams on the road with them as they embark on a 2016 North American tour beginning on Feb. 8 in Orlando, Fla. To see a full list of dates, visit our 2016 Guide to Rock + Metal Tours.
Fleshgod Apocalypse, King Track Listing
01. "Marche Royale"
02. "In Aeternum"
03. "Healing Through War"
04. "The Fool"
05. "Cold as Perfection"
06. "Mitra"
07. "Paramour (Die Leidenschaft bringt Leiden)"
08. "And the Vulture Beholds"
09. "Gravity"
10. "A Million Deaths"
11. "Syphilis"
12. "King"
Top 25 Extreme Metal Albums of All Time
10 Amazing Death Metal Vocalists You Can Actually Understand

Source: Loudwire.com