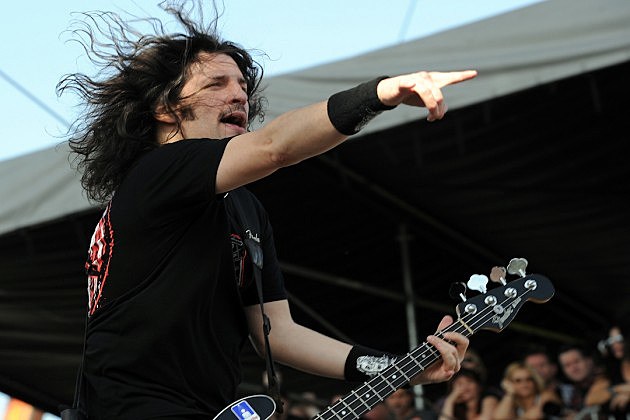 Kevin Winter, Getty Images
Current Armored Saint and former Anthrax vocalist John Bush recently spoke in depth with One on One host Mitch Lafon about his exit from Anthrax and offered some insight into his relationships with the band's members. In the chat, he mentioned still being friendly with Scott Ian, but revealed that he hadn't spoken to Charlie Benante or Frank Bello since the point where there was an argument because he didn't want to sing on Anthrax's Worship Music album. Also speaking with Lafon, Bello revealed that the silence between he and Bush was not really over anything other than just the day-to-day life and falling out of touch.
"You know, it's funny. I love John. I have no issues," says Bello, as heard in the player below. "John is a friend of mine. I love John. See, I never had that thing … I can speak for me. I have no issues. Honestly, I have a family and when I'm home, ask anybody, I don't come out of my house. I kind of just stay with my family and I write songs at home."
Bello says when he's off the road he typically closes himself off and makes time for family. As for his thoughts on Bush, he states, "I love the new Armored Saint record. Joey Vera is a good friend of mine and I told him I love that record. I think it's sounding great. I think John is singing better than ever. And they're good friends of mine, so I wanna see them do well."
During his chat with Lafon, Bush did state that the decision not to record on Worship Music caused more of an issue with Benante and that the two haven't spoken since. He also stated that while he hasn't heard from Benante or Bello, he's just as guilty for not picking up the phone.
Anthrax's Frank Bello on One on One With Mitch Lafon
Anthrax Play 'To Fight 'Em or Not to Fight 'Em'
See the Birthdays of Frank Bello + Other Rockers

Source: Loudwire.com