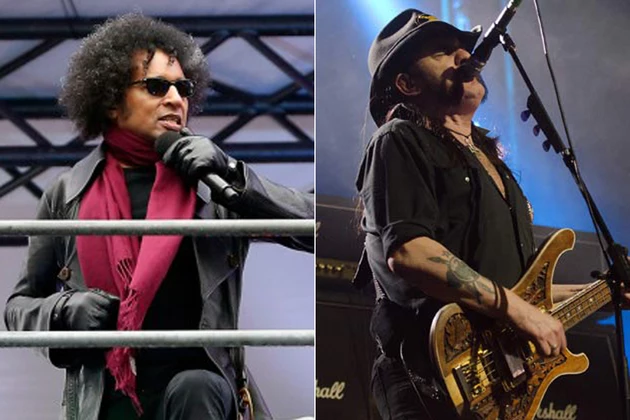 Christian Petersen / Daniel Boczarski, Getty Images
So many stories are being shared on the life of Lemmy Kilmister and one common trait that most of them have is how the Motorhead rocker treated others with respect and kindness, whether it be a pre-fame teenage fan named Lars Ulrich or some of the biggest rock gods on the planet like Ozzy Osbourne. Current Alice in Chains singer-guitarist William DuVall fell somewhere in between the anonymity of a teen fan and a rock giant when he first met Lemmy and he shared one of his favorite stories of crossing paths with the iconic but very sincere musician via his Facebook page.
As many know, DuVall led a band called Comes With the Fall that had some modest returns prior to joining Alice in Chains. His story falls during a period with the band in which he was struggling to get by and just happened to run into Lemmy.
DuVall recalls, "About 15 years ago, I was driving down Sunset Blvd. near where I lived in West Hollywood. I pulled over into a driveway to talk to someone on my cellphone (this was before I had Bluetooth) and looked up to see Lemmy walking toward my car. He leaned in my passenger window and asked me if I could give him a ride to his favorite strip club in Silverlake. I said, 'Sure.'"
He continues, "On our drive, we talked about a wide range of topics — music, global history, World War II. Lemmy was extremely well read and erudite. When we pulled up outside the club, Lemmy pulled out a couple of $20 bills to hand me. I said, 'No, man, it's cool, really.' Lemmy said, 'Come on. I see you're driving on your spare tire (which was true). Go on, take it. You need it. No time to be proud. I appreciate the lift. And the talk.'"
DuVall says he accepted the gesture and the truth of the matter was that he could use the money. "I had risked everything to move to Los Angeles with my band, Comes With the Fall. I was driving around in the 1995 Mercury Tracer that my grandfather had left me, the car that had gotten me across the country. I'd gotten a flat a couple of weeks earlier and, as Lemmy noted, was still driving on the 'donut' spare tire because I couldn't afford a proper replacement," said the singer. "Trying to keep CWTF going — putting out records independently, chasing down gigs, etc. — and simultaneously keep myself going (eating, paying the rent, etc.) meant that things were often very touch and go financially."
Reflecting on that moment, the musician adds, "I appreciated the simplicity and straightforwardness of Lemmy's reasoning. Just as I often appreciated the no-nonsense clarity of his statements in interviews. The way he spoke was illustrative of the way he lived his life. As many others have already pointed out, and will continue to in the days, weeks, and months to come, Lemmy was one of a kind. And it's just a fact of life that Motörhead ruled."
DuVall concludes by stating that Motorhead ranks up there with the Stooges, MC5 and the Ramones as singular seminal bands. He adds, "They will live forever and their legend will only grow from this day forward — as it should be."
See Where Lemmy Kilmister Ranks Among the Top 50 Hard Rock + Metal Bassists of All Time
See Where Lemmy Kilmister Ranks Among the Top 50 Hard Rock + Metal Frontmen of All Time
10 Unforgettable Lemmy Kilmister Moments
Subscribe to Loudwire on

Source: Loudwire.com