Twisted Sister have wrapped their touring for 2015, but not without getting in a few jabs at some of their peers first. In the fan-shot video above, Dee Snider uses a breakdown during the band's performance of "I Wanna Rock" to make a few comments about Vince Neil, Scorpions and Judas Priest, but it should also be noted that he also had a little fun at his own expense, explaining why Twisted Sister are calling it a career.
During the performance, the fans begin to sing along with "I Wanna Rock," but Snider shuts it down, stating, "I appreciate you guys helping me sing, but I'm not Vince Neil. I can sing man, what's up? I'm just sayin', watch." With it being the final show of the year, Snider also addressed the elephant in the room, that this was likely the last time the band would perform at the Hinckley, Minn. venue. As has been reported, the group is planning some 2016 touring, then intend on hanging it up.
Snider told the crowd, "Twisted Sister is calling it quits and that's no bulls–t. None of this Judas Priest, Scorpions fake out tour. No, for real." He then joked about the reason for hanging it up was that he wanted to eat. "I wanna f–kin' muffin," joked Snider. "I know you heard how much I love pancakes." He added that if the band were to play again, he'd be rather large in size. Watch the fan-shot performance in full above.
It should also be noted that a "F— Paul Stanley" t-shirt briefly appeared onstage, hanging by the drum riser of Mike Portnoy. The shirt, a reference to Snider's recent war of words with the KISS vocalist who called him "a wannabe," was apparently not the work of the band. In a Facebook posting, Portnoy stated, "For the record, somebody from the audience threw an 'F–k Paul Stanley' shirt on stage … somebody hung it on the drum riser for a few minutes but to Dee's credit, he didn't take the bait and took the high road without mentioning Paul or anything about 'the feud' during the show…
Portnoy added, "Jay Jay [French] did briefly mention something at the end, not AT ALL bad mouthing Paul, but merely stood up for Dee calling him one of the greatest frontmen in rock." You can see the shirt that rested briefly on the drum riser in a photo submitted to Loudwire by Tommy Donohue below.
For those not in the know, Snider was critical during an appearance on Eddie Trunk's radio show about the current KISS lineup continuing to use the imagery established by Peter Criss and Ace Frehley in the band's early days. Stanley, during an appearance on Chris Jericho's 'Talk Is Jericho' podcast, stated that Snider was just "a wannabe" that was desperate for attention and called Twisted Sister "a bunch of buffoons." Snider responded with a Facebook post in which he stated that while he respected KISS and Stanley as a performer, he wondered why Stanley seemed to feel threatened by him. He also called Stanley's comment about Twisted Sister being a bunch of buffoons ironic, and challenged the KISS vocalist to a live battle "no costumes, no pyro, no bulls–t," before concluding "I will bury you, son."
Twisted Sister Perform in Minnesota As "F–k Paul Stanley" Shirt Hangs on Drum Riser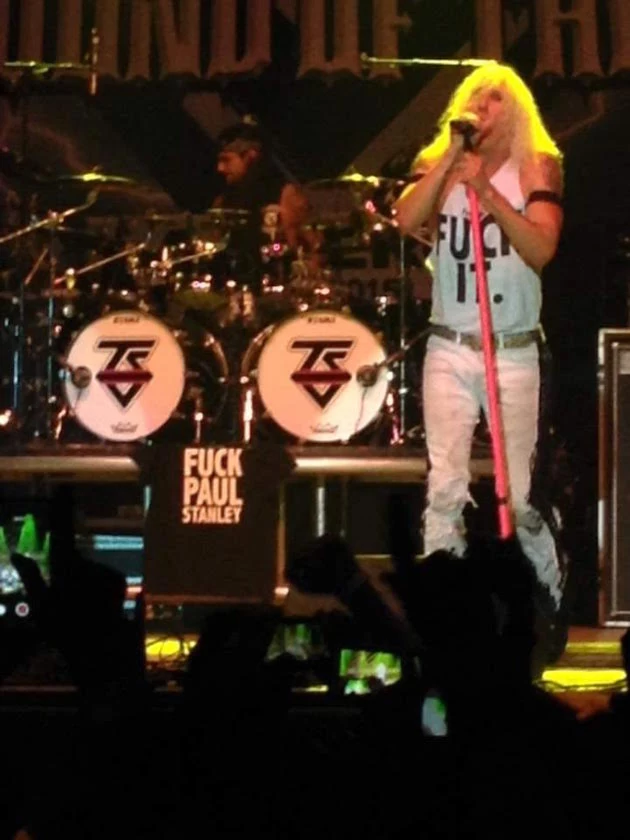 Photo courtesy of Tommy Donohue
See the Yearbook Photos of Dee Snider + Other Rockers
You Think You Know KISS?

Source: Loudwire.com