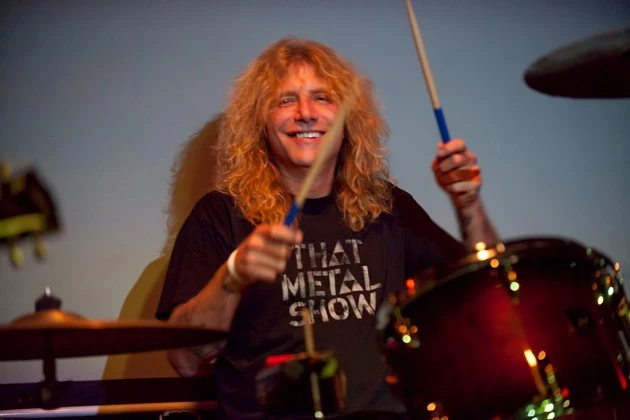 Kevin Estrada, IES
With the recent departures of guitarists DJ Ashba and Bumblefoot from the most recent incarnation of Guns N' Roses, and with the news that Slash and Axl Rose have apparently reconciled after a longstanding feud, rumors of a classic Guns N' Roses lineup reunion are swirling about.
Drummer Steven Adler is the first "classic" member to comment on the recent developments, telling the Jasta Show (listen below) that he's overjoyed that the relationship between Slash and Axl is on the mend. "I think that's great, 'cause it's been too long," said Adler. "The world has missed out on 25 years of great music, because those two weren't together. I mean, Slash and Axl, it's like Mick Jagger and Keith Richards, Steven Tyler and Joe Perry, Robert Plant and Jimmy Page. Imagine if those guys weren't together. It's a shame, and I'm just so glad that they're talking and everything is in the past like it should be. 'Cause I love those guys. Axl doesn't realize that I'm the one who loves him more than anybody."
As far as a reunion, Adler is 100 percent behind it. "If we played together, the whole arena would cry with joy. I go all around the world, I travel, and people always ask me, 'When are you gonna do a reunion? When are you gonna do a reunion?' And I want more than anything to be able to say, 'Oh, we're gonna do it on this day. Or this day.' But I have nothing to do with it. I wish I did. If I did, it would happened a long time ago. God wasn't ready for it."
Adler even says he wouldn't mind splitting drumming duties with Matt Sorum, who replaced Adler prior to the band's Use Your Illusion albums. However, he did point out a major difference in their styles. "I love Matt. He's great," says Adler. "With Matt and me, the difference is… He is the perfect drummer. It's just so amazing. If he went in the studio to record a song, he's gonna do it on the first take, but it's gonna sound like a machine. Me, I might not do it on the first take, but it's gonna have feeling to it and soul to it. It's gonna swing."
Despite some unfounded statements from promoters and the recent developments in the Guns N' Roses camp, there is absolutely no word of a "classic" reunion from GN'R's management at this time. We'll keep you posted if any further news develops.
Source: Loudwire.com