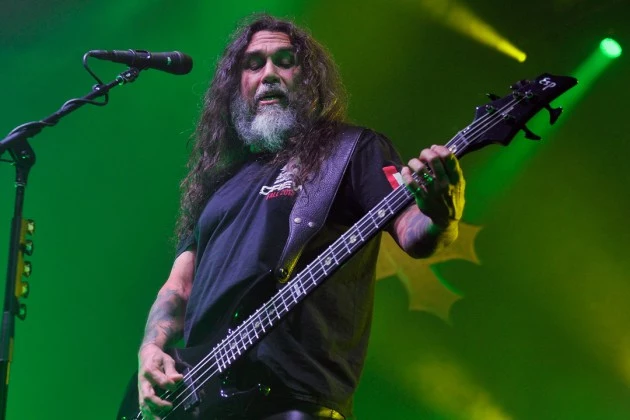 Stephen Lovekin, Getty Images
Slayer have taken the higher ground since their tumultuous split with founding drummer Dave Lombardo, but in a new interview with U.K. site The Skinny, vocalist Tom Araya offers to "set the record straight" and gives one of the most direct assessments of what happened via the band's point of view to date.
Araya reveals that the issues that led to Lombardo's ouster actually began with his return to the band after Paul Bostaph's first exit from the group. He recalls, "Dave said, 'I'll sit in for a tour or two,' and in the process of doing that, we drew up a contract for Dave, because that's what you've got to do — make sure everybody's taken care of, everybody's happy. We came up with a simple agreement that lasted a while, and then we were in the process of trying to make it better for Dave, because after so many years of playing with us, you figure, well, s–t — we should redo this."
The vocalist says they came up with a deal for Lombardo that was a three-year term and should have given the drummer what he wanted, but the stickman refused to sign it. "We had some obligations that came up and when you're given an ultimatum or put on the spot, you have to do something, so we moved forwards, and Dave got really upset. We went back to him again and told him that if he signed the deal, we could move forwards, but he had other plans, so we made a phone call to him and ended it, because he was beginning to put us into a bad spot. We managed to find somebody to sit in, we went off to play in Australia and Dave went on a rant and told a lopsided story, and we let him talk and do what he does best."
"I hate to say anything bad about him, but he did what he did and we had to move forwards," concludes Araya. "He was beginning to put us in a really bad light, and we didn't want to stop the wheels from turning."
The vocalist reveals that after Lombardo posted his comments on his contractual issues with the group, the band was bombarded with texts. One of the people who reached out to him was Bostaph and that opened the door for his return. "I took that as a sign. Paul's the only other drummer for this band. He'd replaced Dave before and become kind of a fixture in his own right," says Araya. "We did several albums with him, and in fact, if he hadn't left, he'd still be in the band. That was the level he was at with us."
In the same interview, Araya also addresses the other major change in the band that came with the death of Jeff Hanneman. "When Jeff passed, I was apprehensive. To me, the issue was, do we continue? That was what was going through my head. The relationship between me and Jeff was very much a working one, where we could communicate, collaborate and make things sound cool in our eyes, whereas the one between me and Kerry [King] was really different. I just knew we had to sit down and figure out if we could still do this — if this was going to be a good relationship or a rocky one."
Araya says he and King spoke about the future and he expressed his desire that they be open and accepting of each other's ideas and so far everything has worked. To read more of Araya's interview with The Skinny, click here.
See Where Dave Lombardo + Paul Bostaph Rank Among Our Top 50 Hard Rock + Metal Drummers
Kerry King Remembers Slayer's Jeff Hanneman

Source: Loudwire.com