Nuclear Blast
Slayer's upcoming music video for "Repentless" looks like its gonna be a bloodbath. The legendary thrash band went all out to create what could be 2015′s top metal video, recruiting a myriad of iconic character actors including Machete hero Danny Trejo and Tony Moran, who played the unmasked Michael Myers in the original Halloween.
In 100-degree Los Angeles heat, Slayer took to the Sybil Brand Institute, a former county jail for female inmates. Assembling in the exercise yard, a brutal riot was filmed for the video, which has been described as "more like something for a feature film than a rock band's music video" by various cast and crew members.
Along with Trejo and Moran, Derek Mears (Predators / Friday the 13th), Tyler Mane (Halloween), Jason Trost (Hatchet III), Sean Whalen (Men In Black / Halloween II) and Vernon Wells (Mad Max 2 / Commando / Weird Science) are featured as inmates in the video. "Repentless" was also directed by Hatchet III director and Avengers: Age of Ultron / Ant-Man / The Interview cameraman BJ McDonnell while stunts were coordinated by Nils Allen Stewart, who is known for his work on films such as Planet of the Apes, Anger Management and Daredevil.
Fans will witness the "Repentless" bloodshed for themselves soon, but for now stay excited and be sure to pre-order Slayer's Repentless album by clicking here.
More Stills From Slayer's "Repentless" Video: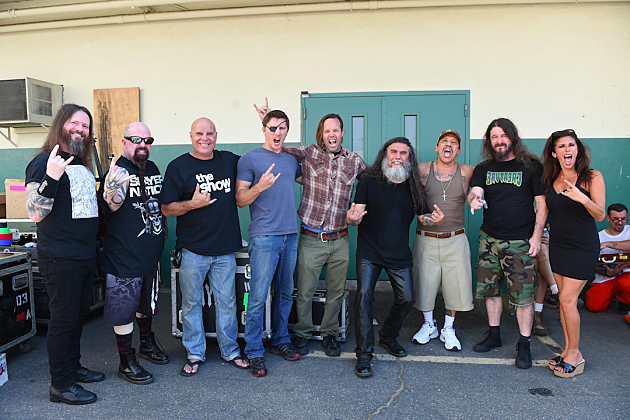 Nuclear Blast
Nuclear Blast
See Where Slayer Membes Rank in Our Top 50 Hard Rock + Metal Guitarists
Slayer's Kerry King Plays Wikipedia: Fact or Fiction? (Part 1)

Source: Loudwire.com