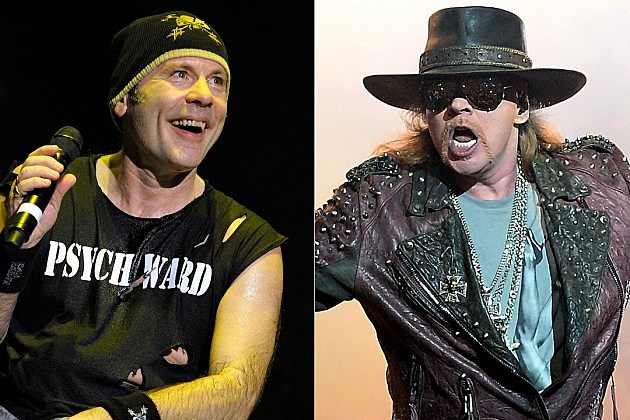 Martin Philbey / Ethan Miller, Getty Images
Iron Maiden vocalist Bruce Dickinson isn't known for being a violent man. In fact, he's one of the most down-to-earth and polite people you'd ever hope to meet. However, this didn't stop Iron Maiden's "air raid siren" from wishing he had punched out Axl Rose back in 1988.
On May 16, 1988, Guns N' Roses opened for Iron Maiden at the Coliseum in Quebec City, Quebec, Canada. According to a recent interview Dickinson had with the Journal De Montreal, GN'R frontman Axl Rose treated the audience poorly that night. Why? Because the crowd was speaking to Axl in French, which tends to happen in French Canada.
Bruce Dickinson didn't take kindly to Axl's apparent disrespect to Maiden's audience, tempting the Maiden legend to give Axl a clobbering. "I should have come on stage and given him a punch," Dickinson said. "How could he dare speak to my audience in that way? I always regretted not having done so. "
Bruce also spoke of the moment he learned his battle against tongue and throat cancer had been successful. "A huge relief, I was unable to speak. I did not know what to do. Should I scream my joy? It was the biggest news I had ever received in my life … Right now, I'm at the stage of healing, so I have not sung except sometimes at home. Fortunately, the power is still there. Notes too. We will rehearse intensively in January."
Iron Maiden's 16th studio album, The Book of Souls, is now available so be sure to grab yourself a copy here.
See the Yearbook Photos of Bruce Dickinson + Other Rock Stars
Iron Maiden's Bruce Dickinson Opens Up on Cancer Battle

Source: Loudwire.com