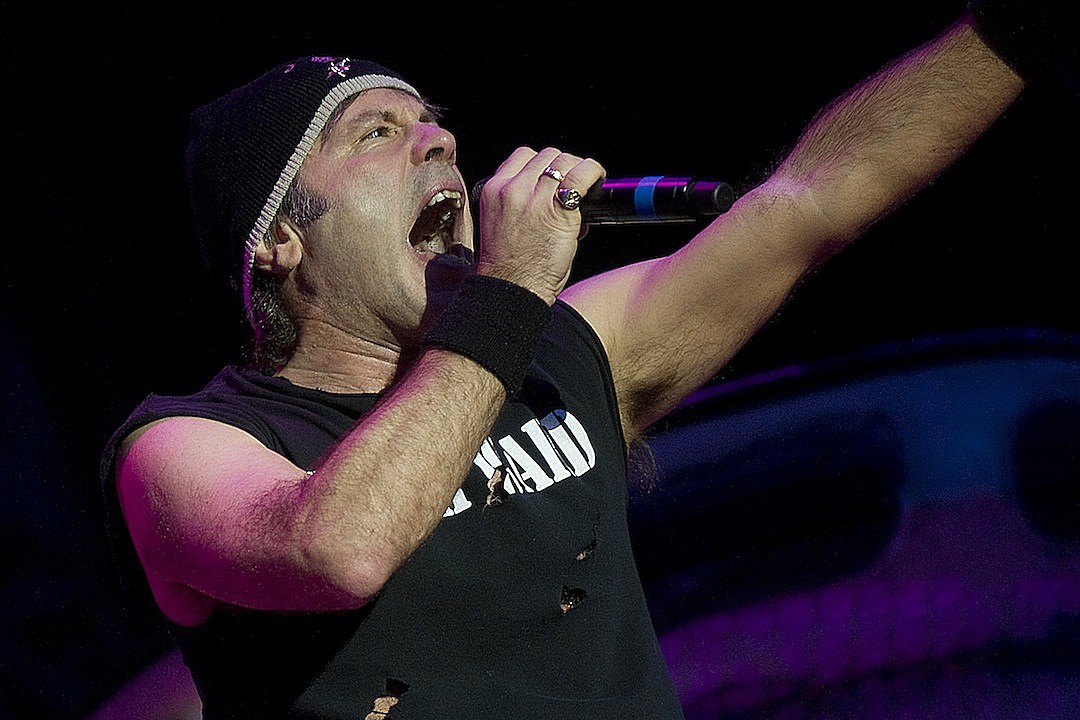 Getty Images
With Iron Maiden's latest album The Book of Souls coming out on Friday (Sept. 4), frontman Bruce Dickinson is making the press rounds. He sat down for an interview with comedian Jim Norton and That Metal Show co-host Don Jamieson on Opie Radio.
Dickinson was asked about music streaming services such as Spotify, and if he thinks artists are getting "ripped off." He says (transcription via Blabbermouth), "Yeah, they are. But it's just like one of those, kind of, 'Damned if you do, damned if you don't' moments, really. I mean, it's this thing of… Kids love music, and people love music now more than probably any other time in human history, right? So what do you do? Do you say that people that love everything, 'You're all criminals, just 'cause you love it.' That's what sank all the record labels, who didn't figure out that, actually, these people are not trying to do harm. They just love it, you know?"
Two of Dickinson's sons are also in the music industry, and he has seen the effects free streaming services are having on younger and lesser known bands. "My two boys [are] both doing their own thing and they both just got signed to record labels and stuff, and so they're going through the whole process right now," Dickinson says. "And the deals that they're looking at… 'Cause, I mean, I go down the pub with my guys, and they sort of say, 'Dad, you wanna take a look at the contracts and see if we're getting ripped off?'"
Dickinson continues, "And I said, 'Well, I don't really have much of a clue what I'm looking at here, but let me have a look.' [And then I went], 'That one looks a little dodgy to me. You might wanna ask them about that one.' For example, on one contract, there was this thing that said, 'Yeah, we'll give you X thousand advance' — and it's only an advance, so, I mean, it's not a huge amount. The money is, like, 20 percent of what it would have been fifteen years ago, so, for starters, all that is way back. Plus, they wanna be selling T-shirts for you, and they wanna be taking a slice… The record companies are taking a slice of everything."
With a famous father, his sons have dealt with accusations that the only reason they were able to get record deals was because of Bruce. "Austin was in a band called Rise to Remain, and they got signed to EMI," Dickinson says. "And then they — as most bands do — they kind of imploded and they started something new. But that was… He had to take the full force of all the haters and all the trolls and all the Blabbermouth idiots and all the rest of it. They were, like, 'Oh, yeah, well, obviously, he just got the gig 'cause he really can't sing, and he's not as good as his dad.' And all that stuff. Oh, it's hard, it's harsh. But he bashed his way through it, and I'm really pleased for him."
Austin Dickinson is currently in As Lions, who have signed with Eleven Seven Records and are recording a new album. His son Griffin is in Shvpes, who are signed to Spinefarm Records.
See the Yearbook Photos of Bruce Dickinson + Other Rock Stars
10 Amazing Bruce Dickinson Onstage Moments

Source: Loudwire.com