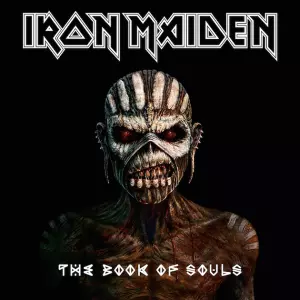 Parlophone / Sanctuary / BMG
You're probably wondering how much praise can possibly be heaped onto Iron Maiden. Interestingly enough, the answer has never been found. The metal community loves to viciously debate about and slam acts who have received too much exposure, become watered down or have simply overstayed their welcome. And though fragmented when it comes to taste, occupants of the heavy metal realm share one universal truth: There's no such thing as too much Iron Maiden. How does this singularity exist in such a chaotic and complex dimension? Allow the British heavy metal titans 92 minutes of your time.
The Book of Souls is the first double album of Iron Maiden's four-decade career. The fact that Maiden were so creatively inspired that they'd craft a work longer than most romantic comedies is enough to bring a tear to any fan's eye, but the quality of the album itself will make you weep with joy.
Truncated by Bruce Dickinson-penned tracks, The Book of Souls soars right away with "If Eternity Should Fail," arguably the strongest opening Maiden have put to an album since "Moonchild" introduced Seventh Son of a Seventh Son back in 1988. The song is simply grand, beginning with a thick synth drone and regal horns preluding the entrance of Dickinson's golden voice. Bruce's ability to tell a story through song remains unmatched, as does Maiden's instrumental section when moving a track's spirit forward with leviathan stomps.
"The Speed of Light" is the closest you'll get to a "Trooper" or "Aces High" on The Book of Souls, as all 11 tracks brush the five-minute mark at least. But Maiden is a different beast now, and conceptual magnificence takes priority over instant gratification in 2015. "The Red and the Black" represents this perfectly, clocking in at nearly a quarter hour. Written by Steve Harris, the legendary bassist manages to coat the listener's ears with one of Iron Maiden's richest soundscapes to date, sweetened by the breathtaking use of keyboards. "The Red and the Black" is an unyielding riff and solo fest, even honing a gigantic section of Iron Maiden "WOAH's".
"When the River Runs Deep" breaks from the flow slightly by picking up the pace, while the album's title track showcases the somewhat unsung compositional talents of guitarist Janick Gers. "Shadows of the Valley" comes soon after, and it adds yet another Maiden epic to an album already packed to the barrel with gunpowder. It begins with a riff reminiscent of "Wasted Years," but quickly breaks from further comparison with some unconventional guitar breaks and a super powered chorus from Mr. Dickinson that just begs to be sung by a stadium filled with Maiden fanatics.
If The Book of Souls were to take its bow after "Tears of a Clown," the band's farewell to Robin Williams, and "The Man of Sorrows," a piece filled with melancholy and soul, we'd all be left in a euphoric haze praising our metal heroes for yet another life affirming release. However, an extra 18 minutes is given to a little cut called "Empire of the Clouds." And ladies and gentlemen, this is where The Book of Souls goes from simply fantastic to an undeniable classic.
Using a keyboard Bruce Dickinson won at a charity event, "Empire of the Clouds" was pieced together like a sonic Frankenstein, turning into an entity Bruce never could have imagined when first placing fingers on his shiny new electric piano. Steve Harris has rightfully called the song a "masterpiece," while Bruce referred to it as a personal opus during our recent chat (see below) with the singer. Many have referred to "Empire of the Clouds" as everything you love about Iron Maiden rolled into one song, but this is only partially true, as "Empire" is like nothing you've ever heard from Maiden before.
Beginning with a beautiful piano piece accompanied by strings and a marching snare beat, "Empire of the Clouds" remains calm while Bruce narrates the tragic R101 airship disaster of 1930. Bruce's lifelong passion for aircraft pierces through the opus, giving "Empire" an extra sense of heart which simply cannot be manufactured. Fans may expect a turbulent 18 minutes considering the track's subject matter, but "Empire of the Clouds" approaches chaos rather passively, instead remaining focused on theatrical mastery often found in a Broadway playhouse. Each bit of trouble never overwhelms Bruce's narration, much like past Maiden long forms "Rime of the Ancient Mariner" or "Where the Wild Wind Blows."
After 40 years of existence, Iron Maiden have compromised absolutely nothing. Instead, they've launched Ed Force One into skies never touched by another metal act. Though other legendary metal acts have forged monumental careers that continue on to this day complete with quality albums released in the 21st century, Iron Maiden are the chosen ones. No veteran metal act, godlike talent considered, has continued to create masterpieces in the new millennium at the level of The Book of Souls. And to put things into deeper perspective, Bruce Dickinson sang every note on The Book of Souls while suffering from Stage 3 tongue and throat cancer, sporting a tumor the size of a golf ball on the back of his tongue. This is why despite the bickering and superiority arguments put forth by all types of metalheads, Iron Maiden remains the intangible element.
'The Book of Souls' is available now, so be sure to order a copy or a bundle pack here.
Iron Maiden's Bruce Dickinson on 'The Book of Souls' + 18-Minute Opus 'Empire of the Clouds'
See the Yearbook Photos of Bruce Dickinson + Other Rock Stars

Source: Loudwire.com