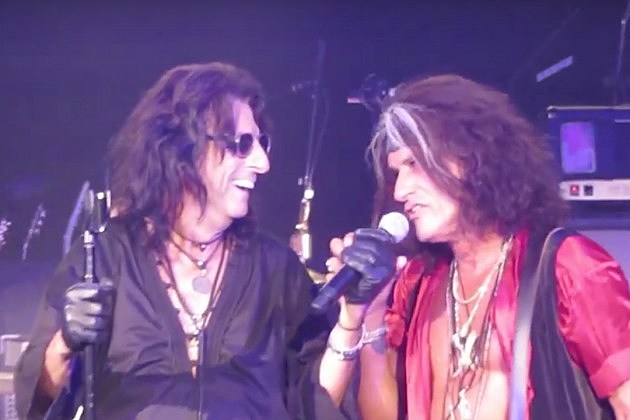 YouTube
Legends never fade away … especially when they have some of their friends among the living to keep the spirit alive and thriving. And such was the case Thursday night in West Hollywood when the Hollywood Vampires took the stage for the second of their two-night stand at the iconic Roxy Theatre. The group, initially formed by Alice Cooper, Joe Perry and Johnny Depp to pay tribute to some of the artists who used to drink and party at Hollywood's hot spots, took a stroll down memory lane with some blistering rock tracks with their own energized takes.
Led by the self-proclaimed "unholy wings" (Joe Perry and Johnny Depp) and "fangs" (Alice Cooper) of the vampire, the Hollywood Vampires core group, which also featured touring members Duff McKagan and Matt Sorum of Guns N' Roses fame as well as Tommy Henriksen and Bruce Witkin, commanded every moment they were onstage and definitely left fans wanting for more.
One of the standout moments early in the show came early on as the band finished out their medley of "Five to One / Break on Through," with Cooper looking upward and dedicating the performance to Jim Morrison, part of the original Hollywood Vampires drinking pals that used to frequent the Sunset Strip. Already on a high with the enthusiastic crowd, the band welcomed part of their extended family — Black Sabbath bassist Geezer Butler and Rage Against the Machine's Tom Morello — to the stage for a no holds barred rendition of Jimi Hendrix's "Manic Depression." At one point, Butler, Depp, McKagan, Cooper and Perry stood in profile looking left and marveling across the stage at Morello who was frantically delivering a wicked guitar solo. Before the song was finished, Morello and Perry grooved off each other — two guitar greats — saluting one of their heroes.
Like the first night, Perry Farrell found his way to the stage in the midst of a cover of Harry Nilsson's "One / Jump Into the Fire" medley, and a little later, pop star Kesha slipped in on vocals shortly after Cooper started a bluesy rendition of Led Zeppelin's "Whole Lotta Love." Other highlights from the body of the set included Zak Starkey sitting in on drums during a cover of The Who's "I'm a Boy," and what could have easily been a show closer in a medley of Cooper's "School's Out" with Pink Floyd's "Another Brick in the Wall," which provided one of the biggest sing-alongs of the evening. As Hollywood Vampires left the stage, everything from guitar picks to drum sticks to strings of beads were tossed to the appreciative crowd.
But at not even an hour of set time and with one of the louder Roxy crowds, Hollywood Vampires were not done. The band returned with a favorite, "Dead Drunk Friends," then later pulled out a surprise when Cooper teased a potential guest while performing his classic "I'm Eighteen." That guest would turn out to be Marilyn Manson who sauntered onto the stage midway through and had a majority of the crowd reaching for their cell phones as Cooper and Manson postured onstage. The friends traded vocals and when the song was over, Manson dropped to his knees and bowed to Cooper, then did a similar move to Depp while the movie star-turned-rocker gave the bow right back to Manson. Before he left, Cooper and Manson shared in an embrace. And to finish out the night, the core Hollywood Vampires lineup delivered a rousing version of the Rolling Stones' "Brown Sugar" with the crowd belting all the "yeah, yeah, yeah, woo's" right back.
It was an evening to remember filled with classic songs you (and they) know and love from some of the most iconic artists in rock history. As Cooper left the stage, he remarked "See you in Rio de Janeiro," a reference to their upcoming show at Rock in Rio this weekend and the only other date announced so far. Fingers crossed there are more shows coming, but either way, you can rock right along with Hollywood Vampires on their self-titled album, which just arrived in stores and online. Give it a listen and enjoy!
Watch Hollywood Vampires + Friends Perform "School's Out / Another Brick in the Wall"
Watch Hollywood Vampires With Geezer Butler + Tom Morello Performing "Manic Depression"

Source: Loudwire.com