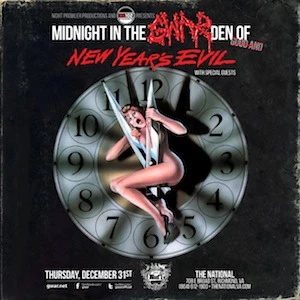 Night Prowler Productions / XL102
The Scumdogs in GWAR are at it again! To celebrate the birth of 2016 — or, in GWAR fashion, the death of 2015 —the band has booked a hometown show in Richmond, Va., billed as the 'In the GWARden of New Year's Evil.' The night promises to feature a special, one-of-a-kind performance from the band, which leaves Bohabs wondering what the band could possibly have left to reinvent their stage show.
Tickets for the event will be available on Friday, Nov. 20, and can be purchased here starting at 10AM EST. More specifics regarding special guests and exclusive events will be made available in the coming weeks.
Guitarist Pustulus Maximus is already anticipating the show, saying, "I can't wait to commit a mass human sacrifice to bring about the end of the world at midnight on Dec. 31 this year. If the world doesn't actually come to an end, at least we can still catch a buzz" See? We weren't kidding about the death of 2015 earlier.
GWAR have hit the road hard, bringing their 30 Years of Total World Domination tour across the U.S. for the last couple of months. They're coming to the end of their tour with Born of Osiris and Battlecross, though Born of Osiris have missed some of the dates due to guitarist Lee Mckinney breaking his foot, which required surgery. The trek will close out on Nov. 28 in Orlando, Fla., so check the remaining dates here.
See Where the Late Oderus Urungus Ranks Among the Top 50 Hard Rock + Metal Frontmen of All Time
Oderus Urungus Reads 'Goodnight Moon'

Source: Loudwire.com