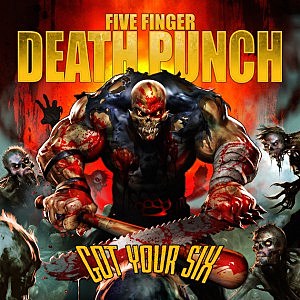 Prospect Park Records
Five Finger Death Punch's highly anticipated new album Got Your Six arrives on Sept. 4, but you can hear the entire disc right now, as the band has partnered with Pandora to offer an advance stream.
While you've likely already heard the single "Jekyll and Hyde," which is a Top 5 hit at rock radio, you'll now be able to listen to the full album at this location.
Guitarist Zoltan Bathory says of the decision to partner with Pandora for the premiere, "I'm an avid Pandora user, so I was very excited when Pandora approached us and we learned that 5 million fans to date have created 5FDP stations on their platform — so working with them on debuting Got Your Six seemed like a natural fit. We are looking forward to everyone hearing the new album and this premiere allows all those fans to access the new music for one week and pre-order the album."
In addition to the release of Got Your Six, which is available for pre-order at iTunes or at the band's official site, 5FDP are also prepping for a co-headlining tour with Papa Roach that will also feature In This Moment and From Ashes to New. See the dates here.
100 Metal Facts You May Not Know
5FDP's Jeremy Spencer Plays 'Wikipedia Fact or Fiction?'

Source: Loudwire.com