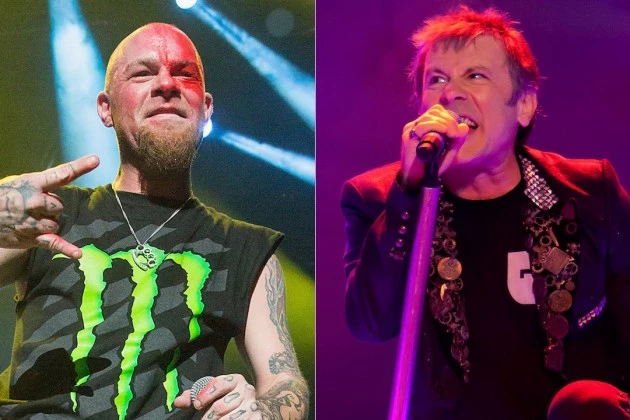 Mat Hayward / Scott Legato, Getty Images
Five Finger Death Punch and Iron Maiden both debuted in the Top 5 of the Billboard 200 albums chart. FFDP's Got Your Six landed at No. 2, while Iron Maiden's The Book of Souls claimed the No. 4 spot.
Billboard has a new system in place to determine chart position. In addition to pure album sales, the publication also factors in track equivalent albums and streaming equivalent albums. R&B singer The Weeknd's Beauty Behind the Madness scored the No. 1 position in its second week of release with 145,000 total equivalent albums moved. However, Five Finger Death Punch's Got Your Six actually sold the most pure albums for the week. Of the 119,000 units tallied in its first week, 114,000 copies of Got Your Six were pure album sales. This is FFDP's third consecutive No. 2 album on the Billboard 200, as both Wrong Side of Heaven albums hit that position in 2013.
Iron Maiden's The Book of Souls moved 75,000 equivalent units (74,000 from pure album sales) in its first week here in the U.S. This marks Iron Maiden's second consecutive No. 4 album on the Billboard 200, with 2010′s The Final Frontier also hitting that spot. In the U.K, The Book of Souls is No. 1. The album also boasts the best first-week U.S. sales since vocalist Bruce Dickinson and guitarist Adrian Smith returned to the group in 1999.
This was a huge week for rock and metal! Congratulations to both bands for invading the chart.
See the Yearbook Photos of Bruce Dickinson + Other Rock Stars
Iron Maiden's Bruce Dickinson Opens Up on Cancer Battle

Source: Loudwire.com