Republic Records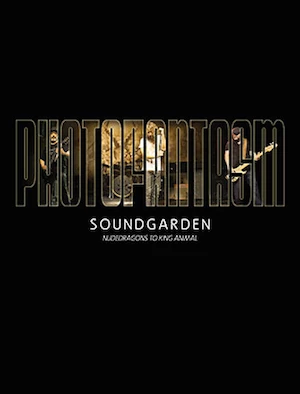 Spoondog Entertainment
Photofantasm: Nudedragons to King Animal is a visual volume created by Soundgarden fans for Soundgarden fans. The over 500 page hardcover coffee table book documents the band's comeback since their secret show on April 15, 2010 under the name "Nudedragons."  It was the band's very first show since 1997.
Photofantasm includes concert photos and excerpts from interviews and show reviews from over 300 contributors, including professional photgraphers and fans, covering 30 countries. Soundgarden die-hards can see snapshots from the band's official tour in 2011 to their Australian dates in 2012 while they were working on their first album in 16 years, King Animal.
Other special parts of the book include little factoids, setlists and quotes from musicians like Korn's Jonathan Davis, Serj Tankian of System of a Down, William DuVall of Alice in Chains and Alter Bridge's Myles Kennedy, just to name a few.
The band's King Animal dates and television appearances on Live on Letterman and Jimmy Kimmel Live!, as well as highlights from their official tour in support of the album, are all documented. Co-authors Mike and Jaye English have compiled an incredible visual spectacle of the acceleration of Soundgarden. They have also unified various media outlets, journalists, photographers, musicians and fans through one awesome literary tribute.
The reunion train for Soundgarden continues to chug and for Soundgarden enthusiasts, Photofantasm is an extraordinary photographic collection of their steady rise since their reunification. Frontman Chris Cornell even stated to Rolling Stone that Soundgarden is already at work on new material for a follow up album. Photofantasm may even need a second volume in the next five years.
Photofantasm is limited to 1,000 copies, with all net profits going to charity. Go here for more information.
10 Best Soundgarden Songs [Watch]

Source: Loudwire.com