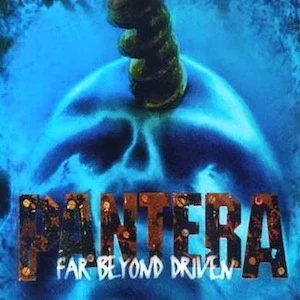 EastWest Records
Pantera's 1994 disc Far Beyond Driven was, like all of the band's albums, a drill to the skull. If tracks like "5 Minutes Alone" don't penetrate your head bone then you might be part rhinoceros.
So here's an example of an album cover perfectly capturing the vibe of music. The image is as straightforward as they come — a giant drill bit boring into some poor sucker's frontal lobe.
There's only one problem here: The album cover that a million of us purchased isn't Far Beyond Driven's original artwork. The drill bit is common to both versions, but rather than driving into a skull, the album's original cover drilled into a buttocks. In 2014 Vinnie Paul told Vanyaland:
"The original thought was "metal up your ass," you know? … In 1994, heavy metal was uncool and we wanted to be as metal as we could. The label agreed with us and then came back three days later and said, "Uhhh … we can't get this into Walmart, Target and retail and it's gonna kill us." So we got back with the guy who did the artwork, Dean Karr, and he did the one with the drill in the head which signifies the same thing."
Dean Karr has created a ridiculous number of iconic metal and hard rock album covers: Slipknot's Iowa and their self-titled album; Marilyn Manson's Antichrist Superstar and Born Villain; and don't forget Vanilla Ice's Hard to Swallow. Okay, maybe that last album not so much, but you get the point.
He's directed quite a few videos, too. Although not his first, Karr's clip for Marilyn Manson's cover of "Sweet Dreams (Are Made of This)" in 1995 lit the fire under his career and set the visual tone for metal for the decade.
EastWest Records
Karr grew up in Seattle and attended Washington State University prior to moving down to L.A., presumably around the late '80s/early '90s, as his first documented credit dates to 1991. There he attended Pasadena's Art Center College of Design and found his way into the burgeoning L.A. art scene. Over the last 25 years, Karr has become a highly sought after director-photographer. The guy's work is all over the place — fashion, music, advertising. He's done everything from Slayer's Still Reigning concert film to commercials for Trident gum.
So who was upset about Far Beyond Driven's original sleeve? Nobody, really. The switch to the "skull" version was a precautionary move by the band's label, though arguably given that the album debuted at No. 1 on the Billboard album charts, there likely would have been a controversy had they stuck to the sexually explicit cover. Or maybe not — in 2014 Vinnie Paul told Rolling Stone that the album "might have even sold more" with the original sleeve.
If you want to own your own piece of Pantera history, get ready to pay. Original copies fetch as much as a hundred bucks, but good news: The original artwork was restored for a 2010 vinyl release that's still in print and runs around 25 dollars.
See Where Dimebag Darrell Ranks on Among Our Top 50 Hard Rock + Metal Guitarists of All Time
Philip Anselmo Looks Back at Far Beyond Driven – Track by Track

Source: Loudwire.com