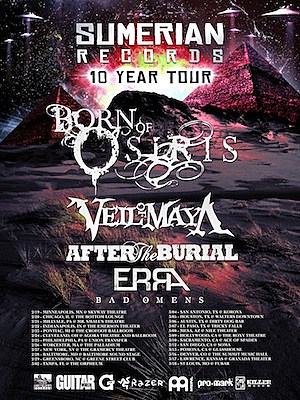 Sumerian
Sumerian Records has had a heavy hand in spawning the deathcore and subsequent offshoot movements. The label has helped launch the careers of the genre's pioneering heavyweights like Born of Osiris, Veil of Maya and After the Burial. The three will be teaming up with label newcomers ERRA and the freshly signed Bad Omens to celebrate Sumerian's 10th anniversary.
The trek will begin and end in the Midwest, extending to both coasts over the course of its monthlong run beginning Feb. 19 in Minneapolis. Born of Osiris will be supporting their latest release, Soul Sphere, which saw the band improve on their trademark style incorporating slugging rhythms with overt technicality and clever use of keyboards to texture the atmosphere. Providing direct support will be Veil of Maya, who released their fifth album, Matriarch, earlier in the year. The two have toured together over the years and will undoubtedly energize each other as they celebrate the label's anniversary.
Label founder Ash Avildsen commented on the 10 Year tour exclaiming, "Born of Osiris, Veil of Maya and After the Burial have all played a crucial role in the new wave of progressive, heavy music and in the pedigree of Sumerian. They are some of the most genuine, hard-working and talented musicians I have had the privilege to work with. I vividly remember first seeing all three of them play together at a tiny legion hall in a small town in Illinois when Sumerian was less than a year old and they were all unsigned."
Continuing the reflection, he added, "I can proudly say that without BOO, VOM and ATB together on the label, Sumerian would not have become the entity it is today. I am honored to have this midwest menagerie be carrying the 10 Year Tour and excited for our new comers in ERRA and Bad Omens. Thank you to all the fans who support the bands and the music. Without you, none of this would be possible. See you in the pit."
ERRA combine sharp, staccato rhythmic chugging with backseat, dazzling lead playing to set the background for the deep gutturals and soaring cleans that crafts a unique atmosphere. Opening each show will be Bad Omens, who were signed to the label earlier this week. Still falling under a similar metallic umbrella as their tourmates, they deliver a perfect party-anthem style with a nod to pop-punk songwriting to warm up the crowd.
Born of Osiris, Veil of Maya, After the Burial, ERRA, Bad Omens 2016 Tour Dates:
2/19 — Minneapolis, Minn. @ Skyway Theatre
2/20 — Chicago, Ill. @ The Bottom Lounge
2/21 — Millvale, Pa. @ Mr. Smalls Theatre
2/23 — Pontiac, Mich. @ The Crofoot Ballroom
2/24 — Cleveland, Ohio @ Agora Theatre And Ballroom
2/25 — Philadelphia, Pa. @ Union Transfer
2/26 — Worcester, Mass. @ The Palladium
2/27 — New York, N.Y. @ Gramercy Theatre
2/28 — Baltimore, Md. @ Baltimore Soundstage
2/29 — Greensboro, N.C. @ Greene Street Club
3/02 — Tampa, Fla. @ The Orpheum
3/04 — San Antonio, Texas @ Korova
3/05 — Houston, Texas @ Walters Downtown
3/06 — Austin, Texas @ Dirty Dog Bar
3/07 — El Paso, Texas @ Tricky Falls
3/08 — Mesa, Ariz. @ Nile Theater
3/09 — Hollywood, Calif. @ The Roxy Theatre
3/10 — Sacramento, Calif. @ Ace Of Spades
3/12 — San Diego, Calif. @ SOMA
3/13 — Pomona, Calif. @ Glasshouse
3/1 6— Denver, Colo. @ Summit Music Hall
3/1 7— Lawrence, Kan. @ Granada Theater
3/18 — St. Louis, Mo. @ Fubar
100 Metal Facts You May Not Know
10 Most Epic Stage Dives
Subscribe to Loudwire on

Source: Loudwire.com