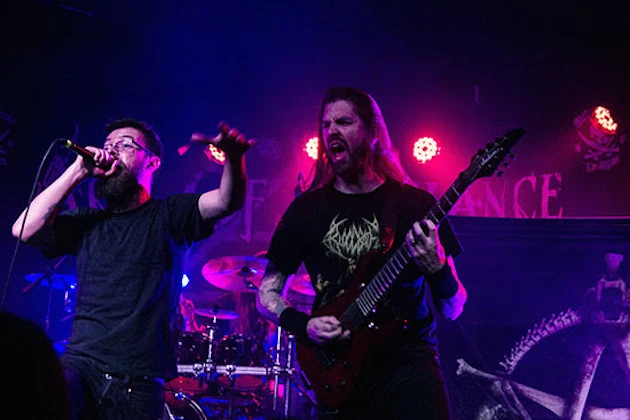 Metal Blade
Colorado death metal merchants Allegaeon were dealt a blow back in October when vocalist Ezra Haynes announced his departure from the band after seven years of service. With a lighthearted goodbye message thanking the fans, he bowed out. The band added vocalist Riley McShane for their fall tour and are now proud to announce they've enlisted him as their new full time vocalist.
McShane will now be splitting his time between three bands, including Sons of Aurelius and Continuum. The vocalist released Under A Western Sun in 2014 and The Hypothesis this year with each band respectively. Allegaeon guitarist Greg Burgess is amped over the band's latest addition, releasing the following statement:
We are extremely excited to officially announce Riley McShane as the permanent vocalist of Allegaeon. For those who have come to see us on the last two tours, I'm sure this will come as no surprise; his past work with Son Of Aurelius, Inanimate Existence, and Continuum speaks loudly as to who the man is as a musician and what kind of weapons he brings to the band. As a long time friend, and being a huge fan of his vocal abilities, this is very exciting for us. New blood is always a great catalyst for creativity, and to bring in a musician of his caliber has been nothing short of awesome. Not only has he been a perfect fit for the group personality-wise, but has also provided us with an array of new vocal techniques to use at our disposal. So, Riley, welcome! All Hail Science!
The confirmation news is good timing as the band are getting ready to hit the studio to work on their fourth studio effort. Allegaeon will strive to follow-up the acclaimed Elements of the Infinite, which was released in 2014 via Metal Blade.
Top 25 Extreme Metal Albums of All Time
10 Amazing Death Metal Vocalists You Can Actually Understand
Subscribe to Loudwire on

Source: Loudwire.com