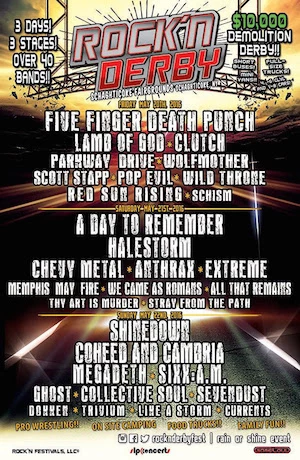 Rock'N Derby 2016
There's nothing like a weekend of great hard rocking music and the Rock'N Derby is the latest addition to the music festival lineup in 2016. Organizers SLP Concerts and GameLoud previously announced a first wave of acts that included Five Finger Death Punch, Shinedown, Halestorm, Megadeth, Lamb of God, Anthrax and Ghost among many others. Now the second wave of performers has been revealed with A Day to Remember, Coheed & Cambria, All That Remains, Parkway Drive, Collective Soul, Extreme, Like a Storm and Red Sun Rising among those now taking part.
In addition, organizers have revealed the daily lineups for the Rock'N Derby, which is set to take place at the Schaghticoke Fairgrounds in Schaghticoke, N.Y. the weekend of May 20-22. The three headliners will be Five Finger Death Punch, A Day to Remember and Shinedown.
Five Finger Death Punch will headline the Friday (May 20) bill, with support from Lamb of God, Clutch, Parkway Drive, Wolfmother, Scott Stapp, Pop Evil, Red Sun Rising, Wild Throne and the Tool tribute band Schism.
A Day to Remember leads the Saturday (May 21) lineup, with Halestorm, Chevy Metal, Anthrax, Extreme, a surprise special guest, We Came as Romans, Memphis May Fire, All That Remains, Stray From the Path and Thy Art Is Murder taking part.
Shinedown get the honor of playing the Rock'N Derby's final set on Sunday (May 22). Coheed and Cambria, Megadeth, Sixx: A.M., Collective Soul, Ghost, Sevendust, Dokken, Trivium, Like a Storm and Currents are also on the Sunday bill.
Rock'N Derby will also stage "The Crusade" in advance of the festival, which will provide unsigned bands a chance to compete in a battle of the bands vying for prizes and performance spots on the festival bill. For more info on "The Crusade," check here.
In addition, those attending will get a chance to check out the Rock'N Derby demolition derbies that come with huge cash prizes. GameChangerWrestling will also be on hand for some intense and mud ridden wrestling matches all weekend long. And yes, there will be all kinds of culinary delights with over 20 food trucks and other mobile vendors on hand to deliver some delicious eats. Plus, there are camping options for those wishing to stay on site throughout the weekend.
Ticket packages for the Rock'N Derby are currently available via Ticketmaster.  Stay tuned to the Rock'N Derby festival website for lineup additions and all things related to the event.

Source: Loudwire.com